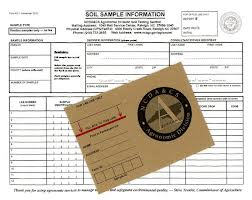 Are you looking for your soil sample results?
Click soil sample box or click link below:
http://www.ncagr.gov/agronomi/pals
The Alamance County Cooperative Extension Service offers soil testing through the NC Department of Agriculture. Simply bring a sample of your soil to be sent off in a small box, complete the soil report form, and drop it off at the Extension Office located in the Agriculture Building. This service is provided FREE of charge from April–November with a cost of $4 from December–March.
The Agronomic Division of the N. C. Department of Agriculture and Consumer Services recently announced that a $4 fee per sample will be charged to soil samples that arrive at the Soil Lab in Raleigh during the peak season for soil sampling.   The peak season and when fees apply will be December through March.  The soil sample fee will be based on the date the sample is logged in the system, and not the day of arrival which is usually a few days preceding log in.  To make sure your soil samples arrive on time and are entered into the system prior to December 1, please plan to bring your samples by November 22nd.
If you send samples during the peak season when the $4 fee applies, clients will need to pay in advance of sending samples, either by using a credit card on-line or using an escrow account.  The on-line credit card payment system will be in place by late fall on the Agronomic Division website: http://www.ncagr.gov/agronomi/pals/
The North Carolina Cooperative Extension, Alamance County Center, is encouraging farmers and homeowners to soil test early to eliminate having to pay this soil sampling fee.  Soil sample boxes and information sheets are available at the Alamance County Cooperative Extension Office, 336-570-6740.  Please call or email mark_danieley@ncsu.edu if you have questions or need further information.