Become an Alamance County Extension Master Food Volunteer!
Find this article at:
go.ncsu.edu/readext?632822

What is the Extension Master Food Volunteer Program?
Interest in food, cooking, and local food is at an all-time high. The Extension Master Food Volunteer (EMFV) program is designed to engage residents in food and nutrition programming in their community and train volunteers to further expand the reach of N.C. Cooperative Extension. The EMFV program will allow FCS agents to train volunteers to support their food and nutrition programming and promote local food, thereby building their capacity to deliver high quality, evidence-based interventions.
What types of activities do volunteers support?
Volunteers work closely with their supervising FCS agent to deliver Cooperative Extension nutrition education and cooking programs, such as Steps to Health, Faithful Families, Cook Smart Eat Smart, and Med Instead of Meds. In addition, volunteers assist with community-based programs and outreach, including food preservation classes, lunch and learn workshops, cooking demonstrations at community locations (such as farmers' markets and food pantries), kids cooking camps, and community health fairs.
What are some of the logistics of the EMFV program?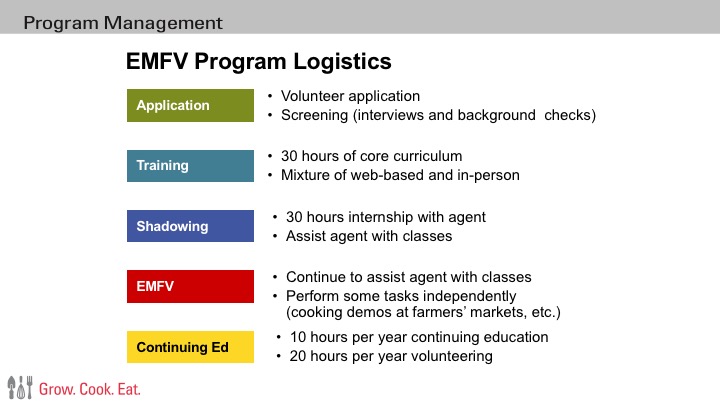 Volunteers will be expected to attend thirty hours of core training, with an additional ten hours of training for elective program support and yearly continuing education. Trainings will include a mixture of on-line and face-to-face formats. After initial training, volunteers will shadow agents for one year (30 hours), assisting with classes and other activities. After the first year, volunteers will be able to perform some tasks independently, depending on their capacity (please note, due to liability concerns, volunteers will not be allowed to conduct food preservation demonstrations or classes independently). Volunteers will always require some level of agent supervision. Agents will be provided training in the EMFV curriculum, as well as in areas of volunteer recruitment and management. A web-based tool will be used to manage a volunteer calendar and allow volunteers to report their own hours (based on the Extension Master Gardener system).
The program costs $35 and covers membership in the Extension and Community Association (ECA), cost of training materials, and an EMFV apron and name tag for each volunteer. If you are interested in the program but unable to pay the $35, please contact Eleanor (contact information below). Please note that the program fee does not need to be paid until the training begins in January, the application process does not include a fee.
Who is the EMFV program for?
This program is ideal for volunteers who are interested in formalizing and deepening their training and involvement with Cooperative Extension. This includes the existing volunteer base of the Extension and Community Association (ECA), Master Gardener℠ volunteers, 4-H leaders, and Circles of 10 volunteers with the NC 10% Campaign. In addition, we hope to engage new stakeholder groups, including individuals who are passionate about food, cooking, and local food, as well as community members who participate in Cooperative Extension programs (such as Steps to Health, EFNEP, and Faithful Families Thriving Communities).
What topic areas will the EMFV Program cover?
Core Curriculum (30 hours):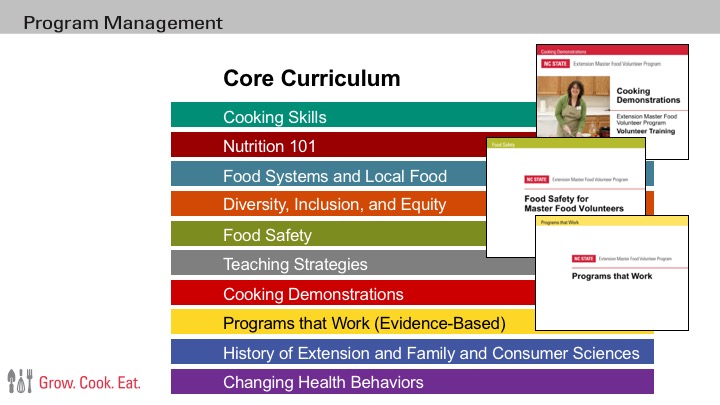 Continuing Education (10 hours): Continuing education modules will be offered to support FCS agents' work with: farmers' markets; community/school gardens; food preservation; food pantries; Faithful Families; Steps to Health; EFNEP; and North Carolina seafood.
Training Dates/How to Apply
The first cohort of Alamance County Extension Master Food Volunteers will begin training on Wednesday, January 15, 2020, at 10 a.m. The EMFV training will be weekly on Wednesday mornings until March 18, 2020 (10 weeks), and most weeks the in-person training will last 2 hours (10 a.m.–noon). If the training dates/times do not work with your schedule but you would like to become an EMFV, please contact Eleanor Frederick to discuss options (contact info below).
To apply, download the EMFV application PDF document at the bottom of this page to print and fill out the application. Applications can be emailed or mailed to Eleanor Frederick, FCS agent in Alamance County. Applications will be due by December 16, 2019.** Interviews will be scheduled with applicants after applications have been received.
Mailing address: 209-C N. Graham-Hopedale Rd Burlington, NC 27217
Email address: eleanor_frederick@ncsu.edu
Paper copies of the application will be available at the N.C. Cooperative Extension of Alamance County office (same as mailing address above).
**Volunteer spots are limited, so don't delay in submitting your application! Depending on interest, I may offer a second volunteer training in the fall (starting around September 2020). More details to come.
If you have any questions about the Extension Master Food Volunteer program, please contact Eleanor via phone (336-570-6740) or email: eleanor_frederick@ncsu.edu.